Offscreen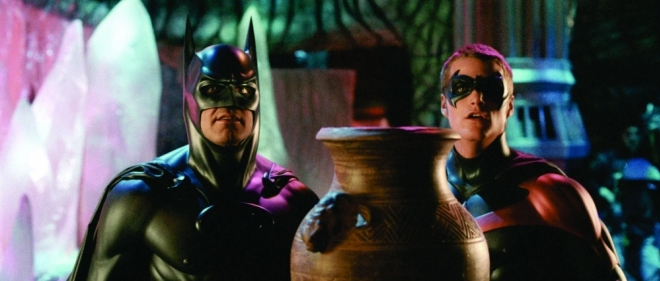 Joel Schumacher
US, 1997, VO ENG, 125'
"I always apologize for Batman & Robin" - George Clooney
Enter Batman & Robin (1997), the most despised film in the superhero genre. The late Joel Schumacher, a director who was known for his dark thrillers such as 8MM (1999) and The Number 23 (2007), was woefully unprepared for the disastrous reception of his second Batman-sequel. Warner Bros. had saddled Schumacher with the impossible task to please fans of Tim Burton's Batman, but also attract a younger audience. It resulted in a movie chokful with hilarious one-liners, insane Dutch angles, unusually colorful set pieces and lots of toys. The all-star cast couldn't redeem the film in the eyes of the fans, and it collected a humiliating total of eleven Razzie nominations.
In Batman & Robin, the villainous Mr. Freeze (Arnold Schwarzenegger) and Poison Ivy (Uma Thurman) team up to take over Gotham City. Their insidious plan is to freeze it whole! Luckily, Batman (George Clooney), Robin (Chris O'Donnell) and Batgirl (Alicia Silverstone) are there to foil their plans. However, Poison Ivy's seductive superpowers throw an interesting wrench in Batman and Robin's teamwork.
Is Batman & Robin really that awful? In comic books, superhero stories often vacillate between colorful camp and the (presently more conventional) gritty realism. Besides, in between all the zaniness and giant set pieces, this movie has a lot of things to love. Therefore, it may be time to redeem its name!
So bad it's good? Or.. Just not that good?
Mondo Culto i.s.m. Offscreen
Introduced by Korneel Snauwaert