Offscreen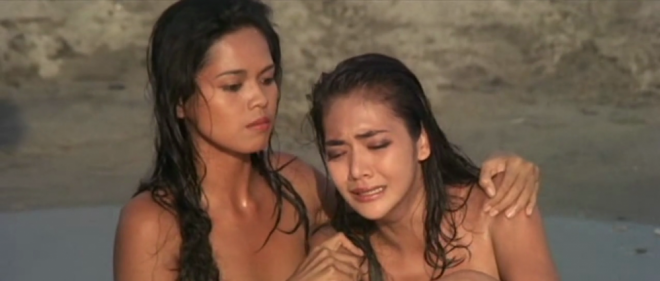 Elwood Perez
PH, 1985, digital, OV TLG ST ANG / ENG OND, 125'
Elwood Perez, one of the most talented and innovative Filipino filmmakers, delivers with Silip - Daughters of Eve an absolute masterpiece of "bold film" (the local equivalent of Western sexploitation or Japanese pinku eiga), and even of world erotic cinema in general. In the early 1980s, after the lifting of martial law just before the fall of the dictatorial regime of President Ferdinand Marcos, Filipino producers and directors were able to enjoy a certain freedom from censorship, at least in terms of the depiction of nudity and sexual acts on screen, and of course provided they did not criticise the incumbent regime. This was possible thanks in part to the relative and somewhat opportunistic "benevolence" of the highly cinephile First Lady Imelda, who was in charge of cultural affairs, The aim of the operation was to maintain a semblance of order and tranquillity by providing Filipino audiences with their fair share of thrills, even if it meant seriously upsetting the highly influential religious authorities, who in the Philippines are predominantly of traditional Catholic persuasion.
The local film industry quickly jumped on the bandwagon with, among other things, this wild, brutal and uncompromising chronicle of the customs and practices of a remote village. Although Silip does not directly criticise the regime and does not openly engage in politics in the strict sense of the word, religion and archaic and patriarchal traditions, which weigh heavily on women who want to explore their sexuality without taboos or restrictions, are heavily criticised. For the first time, the film brings together two of the genre's boldest stars: the charismatic Sarsi Emmanuelle and Maria Isabel Lopez (Miss Universe 1982). Silip was largely filmed on the beautiful pristine beaches of Ilocos Norte, which are superbly showcased through the work of cinematographer Johnny Araojo, Sometimes extremely violent but never complacent,Silip proves to be a work that is certainly moving but nevertheless totally dazzling and unforgettable.
Rarely shown in Europe, this is an unmissable opportunity to discover Silip on the big screen, which is unlikely to happen again anytime soon.